I want a girl with extensions in her hair
Bamboo earrings
At least two pair

See, even LL Cool J liked a pair of big-ass doorknocker earrings on his chick. He was talking about an "around the way girl" and that's exactly what bamboo earrings represent--hood chic. If you remember the '90s, these things were everywhere, thanks to hip-hop culture. They were womens' answer to rope chains...big, bold and spoke attitude. Back then, bamboo earrings were popularized by celebrities like Salt n' Pepa and Queen Latifah, but in recent years, we've seen them make a comeback on style mavens like Rihanna, Fergie and err...Hilary Duff? They seem hotter than ever now, but some might even say they're a fashion staple that never left the scene.
Then and now...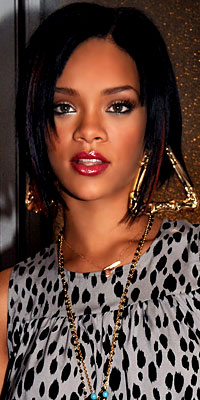 I couldn't help myself yesterday, and bought a pair for $2.99.
But if I had the money, I would definitely get these swarovski joints
If you want to re-live the '80s and '90s with door knocker earrings, then check out urbanoutfitters.com or karmaloop.com.