Must. Stay. Away. From. MAC.
This is the mantra that always circles my conscience when I'm out shopping, but who am I kidding? Impulsive, irrational and generally unnecessary buys are the penchant of a makeup addict. It's just...what I do. LOL.

On Monday, my cousin and I went to the Mall because she was looking to buy some new makeup for an upcoming vacation abroad. Unfortunately, my sweet little cousin is allergic to almost every cosmetic product she comes into contact with (especially lip products, which would make me so sad if I were her). When she applies something to her face, her skin starts to swell and she gets blotchy patches within minutes. MAC foundations are infamous for irritating many peoples skin, so she was pretty sure she wouldn't be able to rely on any of those but we went into the store to play
around anyway. On a whim, I suggested that maybe she try the mineralize foundations since they might be better suited to such senstitive skin as hers. Because she has combination skin that is sometimes dehydrated, we decided to try out the compact version because the creamy texture would be more moisturizing than the powder and because it would provide more coverage than the liquid. After the artist matched her to NC44, we decided to shop around the mall for an hour to see how her skin reacted to the foundation. Lo and behold! After more than an hour, her skin was not the least bit irritated. In fact, it looked absolutely glowing and flawless! If your skin is irrirated by foundations, I would suggest trying MAC's mineralize foundations as they come in a variety of formulations that will also suit different skin types.
Now on to my purchases...

I couldn't just leave the store without something in hand. That would just be too weird!

Please forgive the pics...I took them on my husband's iPhone. Still researching for a new camera...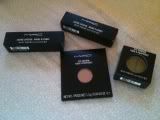 1. Touch Lipstick (Lustre)-This lipstick is a dark peach (the MAC website describes it as "pe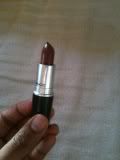 achy cinnamon") and I'm currently loving this as a natural-looking nude for my pigmented lips.
2. Hug Me Lipstick (Lustre)-Is a pinky flesh-toned lipstick. It's a little light for an everyday nude on me, but if I ever want to do a Kim Kardashian look, this is probably what I'll go for next time. (LoL why do I always cite Kim K. when it comes to makeup?!)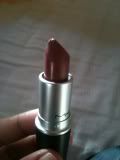 Here are swatches of both lipsticks.
3. Lucky Green Eyeshadow (Veluxe Pearl)-I LOVE Veluxe Pearl eyeshadows for their soft texture and because they are shiny without being glittery. This particular color is a gorgeous shade of lime green with a hint of gold...kind of chartreusey, in my opinion. It's not bright in an obnoxious way, but definitely striking. I am looking forward to using this with darker greens like Humid or dark matte browns.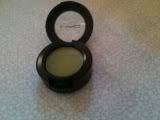 4. All That Glitters Eyeshadow (Veluxe Pearl)-Another beautiful veluxe pearl finish. The s
hade is beige with gold pearl (but sort of on the pinky side) and works as a nice highlight.
Now for some insight as to how often I go into my local MAC store...the artist helping my cousin with her shade selection asked me if I had a Pro Card...when I said "yes", she said "Mhmm. I thought I recognized your face." How embarassing! Oh well...probably not going to discourage me anyway!