I know...a post was LONG overdue. I'm feel so bad. Morever, I feel worse because the quality of the following pictures are so bad since our camera is curiously MIA...so I've resorted to using an OLDDDD school camera (and by old school I mean like 5 years old lol). It's so bad that I couldn't even get some proper swatches. Oh well, I apologize and hopefully I can get on track with a new camera and better pics soon!

In the meantime, I wanted to share with you a few goodies I got at MAC. Nothing from a new collection or anything, just products that I've been wanting to get for a while.

Brushes!!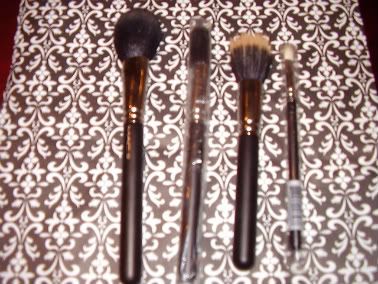 These are all brushes I already own, but I love them to bits and use them so often that I went ahead and splurged on an extra set.

1. 150 Powder Brush--It's so super big and fluffy that it's perfect for setting and pressed powder application.
2. 129 Powder Blush Brush--This brush is the just the right size and softness for a not too overdone blush application.
3. 187 Duo Fibre (Stipling) Brush--By far my favorite brush to put on liquid foundation with, but it's also wonderful to apply powder and cream products as well. If I had to recommend any one brush, the 187 would be it.
4. 217 Blending Brush--This brush is simultaneously dense and fluffy, thus making shadow application to the crease and blending a virtual cake walk. I've even tried applying under-eye concealer with this brush because it provides such a flawless finish.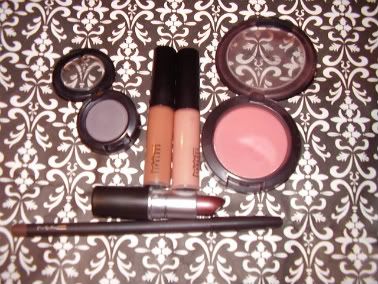 1. Scene Eye Shadow (satin)--I'm a little obsessed with grey smokey eyes right now, so I've been reaching for this slightly muddy purplish-grey shadow almost every day, pairing it with a very dark matte brown like Laura Mercier's Coffee Ground in the crease. I would definitely recommend this eye shadow for brown-eyed girls like myself.
2. Revealing Lipglass--My current HG nude. It's opaque enough to cover my pigmented lips and warm enough to compliment my golden skin...and sure as heck sexxy enough to even put a goddess like Kim Kardashian to shame lol. I like it on its own, but for a more intense look I've put it on top of Stripdown lip liner.
3. Florabundance--This color is nice but a little too milky-pink for my NC 42/43complexion. However, if I apply it on top of Stripdown or Spice lipliner, I can make it work. This would be a nice pinky-nude for lighter skinned girls or those with less pigmented lips.
4. Fluid Lipstick (frost)--I've been eyeing this lipstick at MAC for a minute but have been too hesitant to purchase it. Thank goodness for the safety-net that is Back2 MAC because I really like this color. It's definitely creates a bold look though as it is a deep plum-brown color.
5. Stone Lip Liner--I've had this liner for a long time but lost mine so I just had to repurchase. It's the only cool brown lipliner that I've found and liked. It's perfect when you want that "icy" look. My favorite combination is using Stone with Fabby lipstick and Nymphette lipglass.
6. Fleur Power Powder Blush (satin)--This has so far been my go-to Spring blush and will probably remain so throughout summer. It is a pop of bright pinky-coral that goes with just about any eye-lip combo. I would recommend this blush for pretty much any skin tone, especially those with olive complexions like mine. Just to note, a little goes a LONG way and remember to blend, blend, blend!!